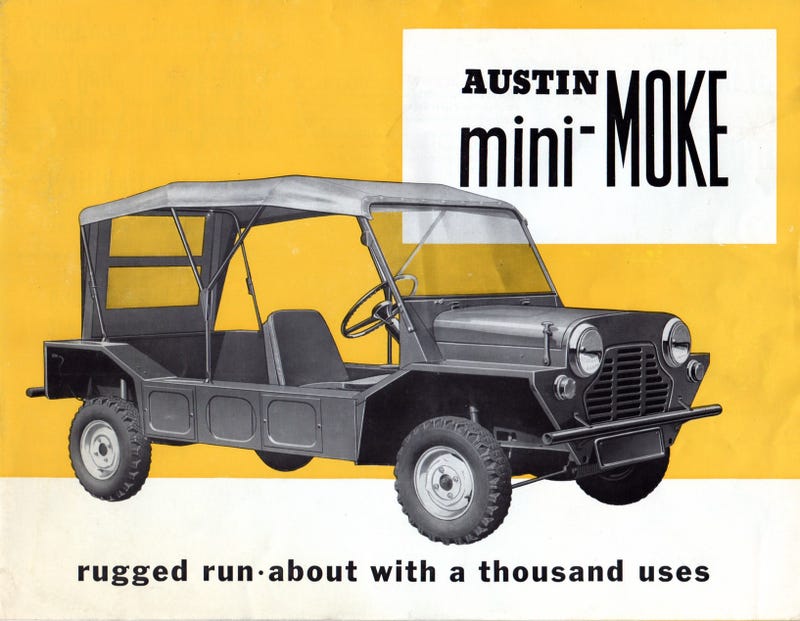 One of the weirdest Mini derivatives ever to leave the plant at Longbridge, was the Mini Moke. A part Mini, part Jeep, part golf cart on steroids, the Mini Moke was the brainchild of Sir Alec Issigonis, the same genius who designed the Mini. The Mini Moke was an attempt to capture some of those juicy military contracts that Land Rover was selfishly hoarding. The whole idea was to provide the armed forces with a lightweight off-road vehicle capable to carry four passengers and their gear, and could be easily be parachuted or airlifted into action.

Early Short Wheel Base BMC Mini Moke being air lifted by a RAF helicopter.
Early prototypes nicknamed Bulkboards were being tested as early as 1959, even before the official Mini was launched to the public. But despite all efforts, the military never grew fond of them. With limited ground clearance, tiny 10" wheels and only front wheel drive, the Mini Moke was not the off-road machine the Military wanted. Even the Twini-Mokes (Mokes with two engines and 4 wheel drive) failed to win a military contract. So what to do with a failed prototype and 4 years of development? Easy, put a sticker price, sell it to the public and let them figure it out if they want to buy them. Surprisingly, many people did.

Sold under the Austin and Morris badges in identical livery, with base price of £413, the Mini Moke was the cheapest car you could buy in Great Britain in 1964. It was £100 cheaper than the most basic Mini! However for that price you didn't get you much.
You want a passenger seat?, that's an option! Rear seats? Option!, Single electric windshield wiper? Option! Sump guard, grab handles, heater (as if it could make a difference), side screens, and off-road Dunlop Weathermaster tires? Yep, you guessed it! Those were all optional. And I hope you like green, because Spruce Green was the only colour offered. This changed later in 1967 when Old English White was included into the options.
Original press picture of an 1964 Austin Mini Moke
Despite of being as luxurious as an army truck, as as sleek as a brick, people actually grew fond of them as they were cool and trendy. This was specially true if you lived in a tropical paradise, like Aristotle Onassis who owned several of them to run around in Skorpios, his private island. However, the Mini Moke was also a little workhorse for many, serving farmers, construction companies, Bond villains, police forces and even the Gold Leaf Lotus Racing Team. The export market is where the Mini Moke actually shined. Mokes were a common sight in the Caribbean Islands, were many were used as rental 7 shuttle vehicles. Production continued in England until 1968, with CKDs being built in Australia, South Africa and Rhodesia.
Sir Alec Issigonis and a 1964 Mini Moke.
The Australian weather was better suited for the little Mini Moke, and so the production was completely moved to Australia, where their good weather and low price ensured they were where sold by the thousands. Updates soon followed and 13" wheels which improved the ground clearance and more powerful 998cc and later 1275cc made the Moke a better light off-road vehicle. Australian Mokes were made between 1966 and 1981.
Australian made Leyland Mini Moke Californian, this was the "luxury" model.

But the Mini Moke story was far from over. Even sales dropped in Australia, Austin-Rover (formerly known as British Leyland,) moved production once again, this time to Portugal, which was closer to the Caribbean and European markets, and also gave them leverage, as for every car produced in Portugal and exported, they were allowed to import a British car.
At first they continued producing the Australian style Mini Moke, but soon they refined the Mini Moke a little bit more with better interiors and switching to 12" tires, that were common with contemporary Minis. Production remained in Portugal where the small production was done entirely by hand. In 1990 the Rover Group sold the rights to the Cagiva Group. They continued to produce Mokes until 1995 with the intentions to move the production to Italy, unfortunately this never happened and production was ceased after they declared bankruptcy. It is estimated that 50,000 Mokes were produced in 31 years of production.
1995 Cagiva Moke made in Portugal
But the Moke story doesn't end here. Back in 2012 the Chinese company Cherry Motors bought the rights to produce them. Since then, they have produced some units, keeping the original with non-Mini engines and even an electric vesrion called Nosmoke currently being sold in Europe. Unfortunately, in an attempt to meet more stringent pollution laws, they were forced to modify the Moke to fit a new we front end in order to fit a new 1.0 4 cylinder engine. Far from pretty, but at least the Moke spirit is still alive.


So, what's like to own one? I'm glad you asked! This will be the topic of my next article!
Miguel Plano